Caddock LC2000 Series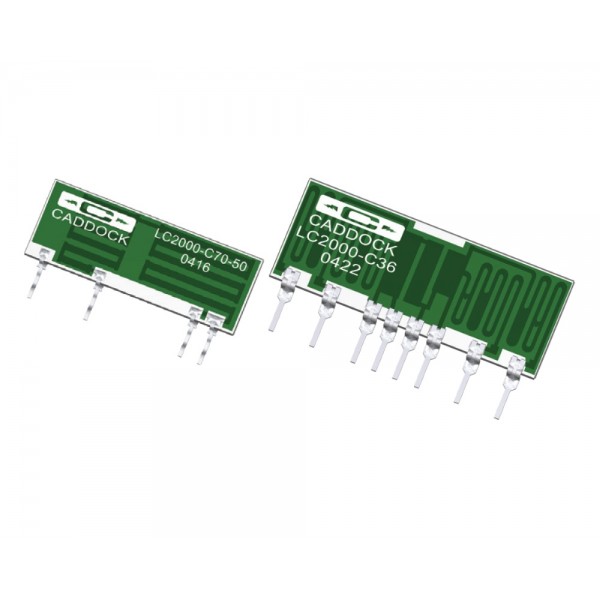 The LC2000 transient tolerant precision resistor network series from Caddock is available with standard and custom resistor pairs, all with precision ratio tolerance options of ±0.25%, ±0.5% and ±1.0%.
Telephone line interface resistors for telephone line card applications
Lightning transient handling while maintaining precision ratio tolerance
Quick fail-safe performance when exposed to cold start voltages of 120VAC, 240VAC, or 600VRMS AC. Protecting telephone system wiring from damage or ignition.
Available with optional spring thermal cutoff protection, mounted on the resistor network substrate. When excessive low voltage power cross causes excessive heating in the resistor network, the spring thermal cutoff opens the circuit and protects the circuit board from heat damage or ignition.
Available with optional thermistor temperature sensing element for controlling a relay circuit which disconnects the excessive low voltage overload, protecting the circuit board from heat damage.
Standard resistance pairs available 24Ω, 30Ω, 40Ω, 50Ω, 100Ω, and 200Ω (Custom values also available upon request)
Precision ratio tolerance of ±0.25%, ±0.5%, or ±1.0%
Operating temperature range from -40°C up to +85°C
Product drawings for the product which meets the needs of your application are available upon request. Each product drawing describes how each network is designed to meet the applicable requirements of GR-1089-CORE and ITU-T K.20.
Custom precision resistor network configurations that can best meet your needs are available upon request. Please contact us with your requirements.
Specifications
Additional Features

Telephone line interface resistors for telephone line card applications
Lightning transient handling while maintaining precision ratio tolerance
Quick fail-safe performance when exposed to cold start voltages of 120VAC, 240VAC or 6000 VRMS AC
Available with optional spring thermal cutoff protection mounted on the resistor network substrate
Available with optional thermistor temperature sensing element for controlling a relay circuit
Operating temperature from -40°C up to +85°C

Maximum Resistance
200Ω (pair)
Minimum Resistance
24Ω (pair)
Tolerance
Precision ratio tolerance:
We are pleased to provide you with a range of additional content including videos, product datasheets, case studies, white papers and application notes for your reference. Please see below for the latest content available: