Caddock VMN Series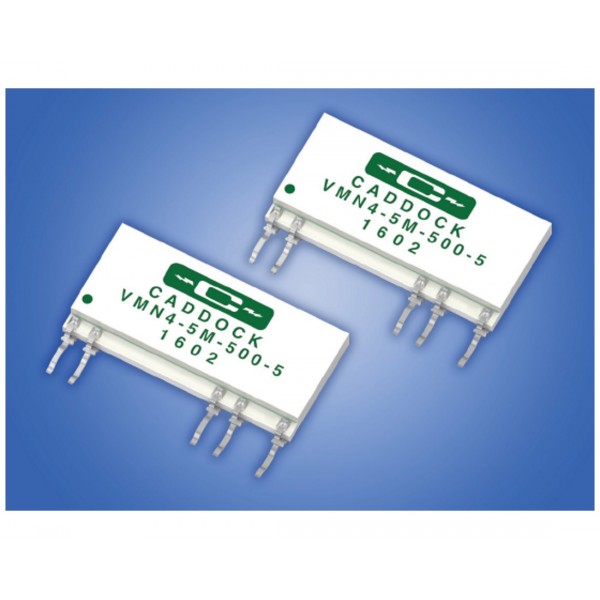 The VMN series from Caddock are transient tolerant voltage monitoring resistor networks, with a resistance range from 5kΩ to 4.99MΩ with a total resistance of 2MΩ or 5MΩ. These resistors have a ratio tolerance of ±0.02% or ±0.1%, the ratio TCR (from -40°C to +85°C) values are: ±5 ppm/°C and ±10 ppm/°C. The Caddock VMN series are manufactured with Tetrinox®, Caddock's ultra-stable low-tc resistance film system. The Tetrinox® film system, combined with Caddock's Ceramic Sandwich Resistor Network construction, provides outstanding long-term stability in industrial applications with electrical surges, transient conditions, and high humidity exposure.
Through-hole transient tolerant voltage monitoring resistor networks
Utilises Caddock's Tetrinox® resistance technology
Resistance values available 5kΩ, 10kΩ, 1.995MΩ and 4.990MΩ
Total resistance 2MΩ or 5MΩ
Ratio TCR (from -40°C to +85°C): ±5 ppm/°C and ±10 ppm/°C
Absolute TCR (from -40°C to +85°C): ±30 ppm/°C
Ratio tolerance of: ±0.02% and ±0.01%
Absolute tolerance of ±1%
These transient tolerant voltage monitoring networks are designed for use in the voltage measurement circuits of
Power quality monitoring equipment
Kilowatt-hour meters
Other power and energy measurement equipment
Multiple USGS selected resistor sets can be used in series to form a string of resistors that achieves a higher total resistance and a higher voltage rating with 5 ppm/°C overall temperature coefficient.
The below table gives the specifications available for the complete VMN series:

* Please see the datasheet for the specification notes.
Specifications
Additional Features

Transient tolerant voltage monitoring through-hole resistor networks
Oustanding long term stability
Utilises Caddock's Tetrinox® resistance technology

Maximum Resistance

R1 = 4.99MΩ down to 1.995MΩ

Minimum Resistance
TCR
Absolute (from -40°C to +85°C):Ratio (from -40°C to +85°C):
Tolerance
Absolute:Ratio:
We are pleased to provide you with a range of additional content including videos, product datasheets, case studies, white papers and application notes for your reference. Please see below for the latest content available: