SRT Microcéramique Non Magnetic NP0 Capacitor Series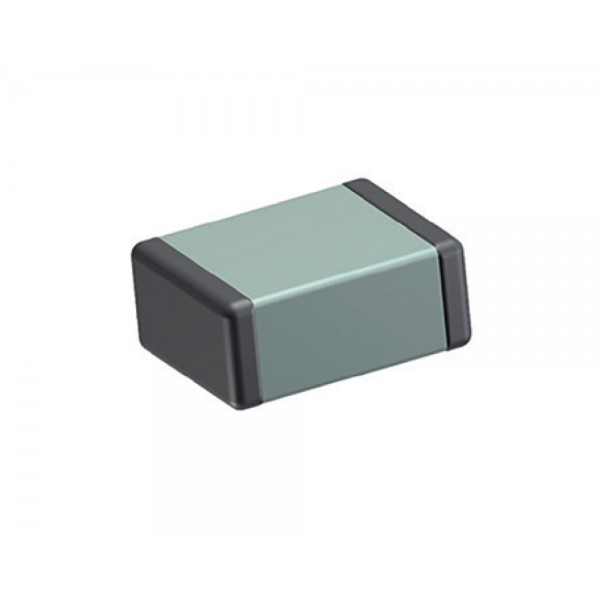 Non-magnetic ceramic chip MLCC capacitors
Available in capacitance ratings between 0.47nF and 82nF
Available in standard chip sizes from 0402 to 3640
Dissipation factor under 10.10-4 at 1Vrms and 1kHz (or 1MHz)
Temperature Coefficient of ±30ppm
Selection of Voltage ratings: 16V, 25V, 50V, 100V, 500V, 1kV, 3kV or 5kV
Selection of tolerances: ±5%, ±10% and ±20%
Operating temperature between -55°C and +125°C
The Non-magnetic NP0 (Type 1) ceramic chip MLCC capacitor series from SRT Microcéramique offers a wide range of options to suit any demand, including capacitance between 0.47nF to 82nF across a range of chip sizes from 0402 to 3640, a selection of ±5%, ±10% or ±20% tolerance, voltage options (16V, 25V, 50V, 100V, 500V, 1kV, 3kV or 5kV) and a selection of termination options. As with all SRT-MC components, the non-magnetic NP0 capacitors are popular in safety-critical industries thanks to their excellent quality and reliability. Their operating temperature is between -55°C and +125°C.
Termination options available include:
Palladium-Silver
Gold-plated Silver
Tin-plated Cooper

While this product series offers a number of options, customisation is possible on all SRT Microcéramique components – if none of the options are suitable for your application, please contact us to discuss the custom solutions available.

Typical applications for the SRT-MC Non-magnetic NP0 series of ceramic capacitors include:

Magnetic resonance imaging
Medical test equipment
Laboratory analysis systems

The below table gives the specifications overview for each capacitor model available within the Non-magnetic NP0 series:
Specifications
Additional Features

Non magnetic NP0 (Type 1) MLCC Capacitors

Highest quality and reliability, suitable for safety-critical industries
Dissipation factor under 10.10-4 at 1Vrms and 1kHz (or 1MHz)
Insulation resistance of 25°C/Un 105 MΩ or 1000 Ohm-Farad whichever is less and 125°C/Un 104 MΩ or 100 Ohm-Farad whichever is less
Dielectric strength test performed per method 103 of EIA 198-2-E

Dielectric
NP0 (C0G)
Operating Temperature
-55°C to +125°C
Package/Size

0402

0603
0805
1206
1210
1812
2220
3640

TCR
±30ppm
Termination

Palladium-Silver
Silver with Gold plated finish
Copper with Tin plated finish

Tolerance
Voltage Reference

16V
25V
50V
100V
500V
1kV
3kV
5kV

We are pleased to provide you with a range of additional content including videos, product datasheets, case studies, white papers and application notes for your reference. Please see below for the latest content available:
Below is an example of the part number breakdown for the SRT Microcéramique Non Magnetic NP0 Capacitor Series :

This product is available fully compliant to the RoHS EU directive 2011/65/EU.