InterFET 2N4416 and 2N4416A Series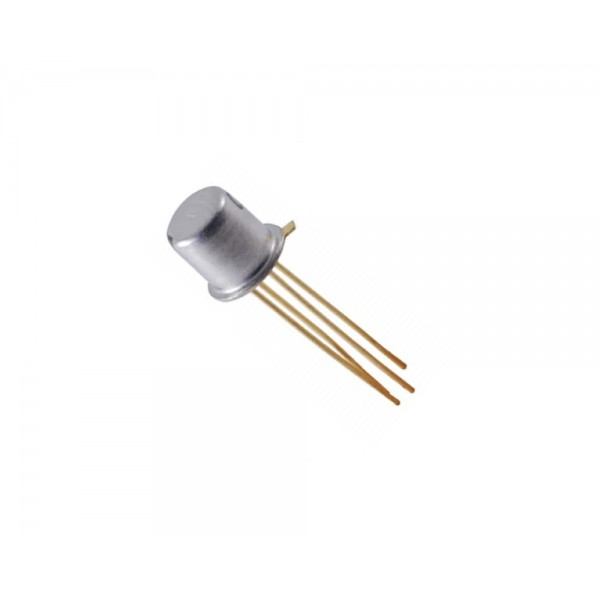 Through-hole N-channel JFET
N0026S Geometry
Low gate leakage of 10pA typical
Low noise of 4nV/√Hz typical
Minimum gate to source breakdown Voltage of -30V (2N4416) or -35V (2N4416A)
Drain to source saturation current 5mA minimum
Gate to source cutoff voltage of -2.5V minimum (2N4416A)
Hermetically sealed TO-72 package suitable for military applications or bare die packages available
Forward transconductance of 4500μS minimum
Continuous device power dissipation 300mW
Power derating of 2mW/°C
Operating temperature between -55°C and +125°C
The InterFET 2N4416 and 2N4416A series of N-channel JFETs offers N0026S geometry, with a gate to source breakdown Voltage of either -30V (2N4416) or -35V (2N4416A) and very low gate leakage of 10pA (typical). This JFET series comes in a through-hole TO-72 which is hermetically sealed and suitable for military applications or it is also available as a bare die package. The 2N4416 and 2N4416A JFETs have a drain to source saturation current of 5mA and can be operated in a temperature range of -55°C to +125°C.
As with all InterFET products, the 2N4416 and 2N4416A JFET series are available for customisation to meet even the strictest application demands. The customisable features include unique test or review parameters, package style, binning options, channel configurations, multi-geometry and hybrid solutions and many others.
Typical applications for the 2N4416 and 2N4416A JFET series from InterFET include:
Sensitive mixer applications
VHF Amplifiers
The below table gives the maximum ratings for each resistor model available for the InterFET 2N4416 and 2N4416A series:

@TA = 25°C, Unless otherwise specified, highlighted values = A variant
Specifications
Additional Features

JFET series ideal for sensitive mixer and VHF amplifier applications
Customisable solutions available

Low noise of nV/√Hz typical

Low leakage of 10pA typical

Continuous Device Power Dissipation (PD)
300mW
Drain to Source Saturation Current (IDSS)
5mA
Forward Transconductance (GFS)
4500μS
Gate to Source Breakdown Voltage (BVGSS)
2N44162N4416A
Operating Temperature
-55°C to +125°C
Package/Size
Power Derating
2mW/°C
We are pleased to provide you with a range of additional content including videos, product datasheets, case studies, white papers and application notes for your reference. Please see below for the latest content available:
Below is the ordering information table, custom part and binning options are also available

All InterFET packaged and unpackaged end products meets the requirements of the latest REACH and RoHS 3 (2015/863 directive) standard. Please click on the links below for InterFETs RoHS and REACH statements.