RARA ULH200 Series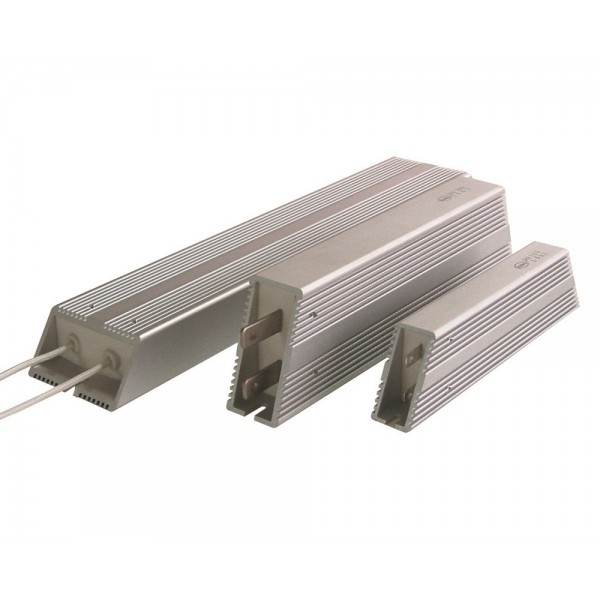 The ULH200 metal clad wire wound resistor series from RARA offers a power rating of up to 200W on a heat sink (140W in free air) with available resistance values between 0.1Ω and 2.2kΩ (inductive design) or between 0.1Ω and 1kΩ (non-inductive design). These high power resistors are available being UL approved and with tolerances of ±0.5%, ±1.0%, ±2.0%, ±5.0% and ±10.0% as standard with other options available including flying leads or tab terminals, as well as inductive or non-inductive resistive windings. The ULH200 series from RARA has an extruded aluminium horizontal housing providing strong and rugged protection all with a temperature range from -55°C up to +200°C
Metal clad wire wound resistor
Inductive resistance range available between 0.1Ω and 2.2kΩ (flying leads) or 0.1Ω and 450Ω (tab terminals)
Non-inductive resistance range available between 0.1Ω and 1kΩ (flying leads) or 0.1Ω and 450Ω (tab terminals)
Option of flying leads (tab terminals are standard)
TCR of +260 ppm/°C maximum
Tolerance values available of ±0.5%, ±1.0%, ±2.0%, ±5.0% and ±10.0%
Power rating of 200W on a heat sink (140W in free air)
Insulation resistance of 20MΩ minimum
Temperature range between -55°C and +200°C
UL approved
Short time overload of 10 x power rating for 5 seconds
Typical applications for the ULH series include:
Motor drives
braking and snubbing applications
Charging for electric vehicles
Power sources for industrial equipment
The below table gives the specifications available for the ULH series including the ULH200 resistors: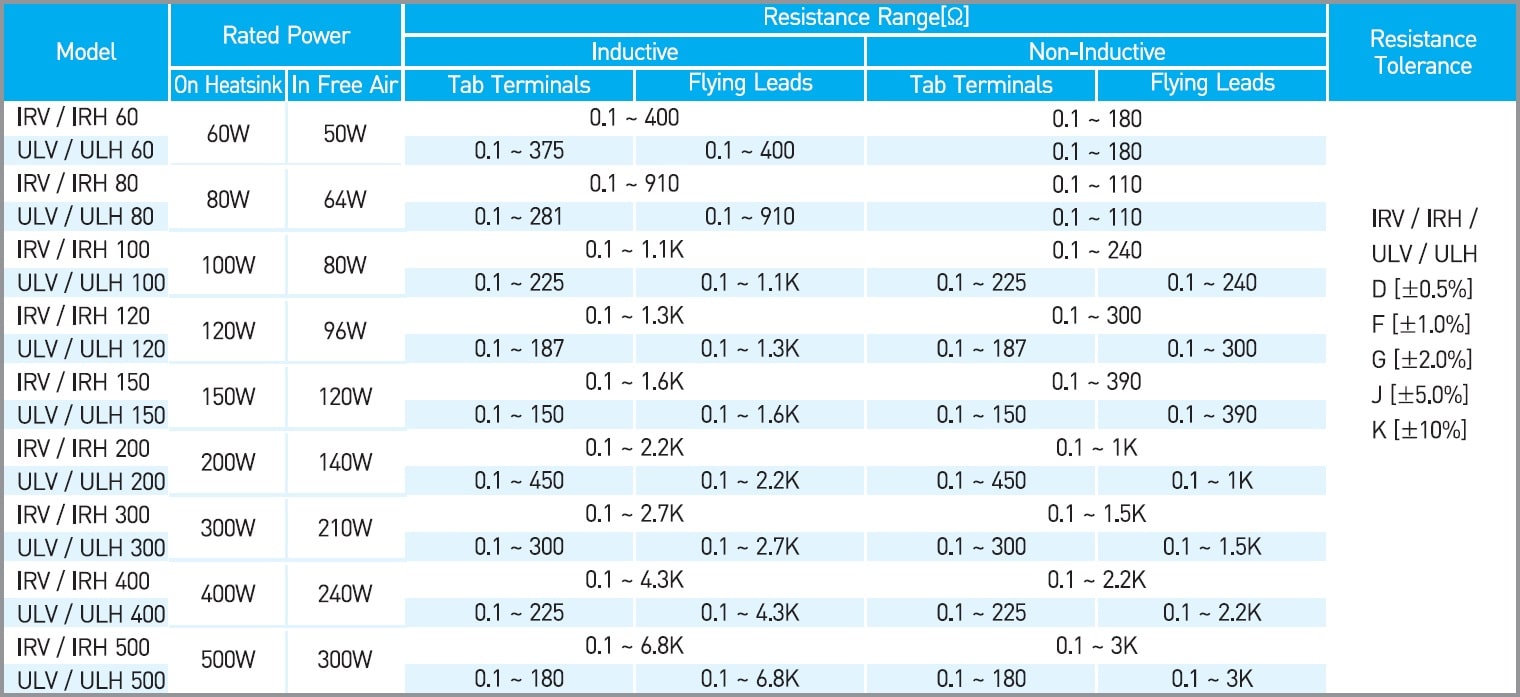 The dielectric withstanding voltage options available are AC1500V, 3500V, 4500V and 5400V for 1 minute and also available in extended ohmic ranges from 0.001Ω up to 750kΩ please contact us for further details.
Specifications
Additional Features

Metal clad wire wound resistor
Option of flying leads (tab terminals are standard)
Inductive or non-inductive design
Insulation resistance of 20MΩ minimum
Temperature range of -55°C up to +200°C
Extruded aluminium horizontal housing
UL approved
Short time overload of 10 x power rating is 5 seconds

Maximum Power Rating
On heat sink In free air
Maximum Resistance
Inductive

2.2kΩ (flying leads)
450Ω (tab terminals)

Non-inductive

1kΩ (flying leads)
450Ω (tab terminals)

Minimum Resistance
Inductive

0.1Ω (flying leads)
0.1Ω (tab terminals)

Non-inductive

0.1Ω (flying leads)
0.1Ω (tab terminals)

TCR
±260ppm/°C maximum
Tolerance

±0.5% (D)
±1.0% (F)
±2.0% (G)
±5.0% (J)
±10.0% (K)
We are pleased to provide you with a range of additional content including videos, product datasheets, case studies, white papers and application notes for your reference. Please see below for the latest content available:
This product is available fully compliant to the RoHS EU directive 2011/65/EU.