Weidmüller RJ45G1 R12D 3.3E4YG/YG RL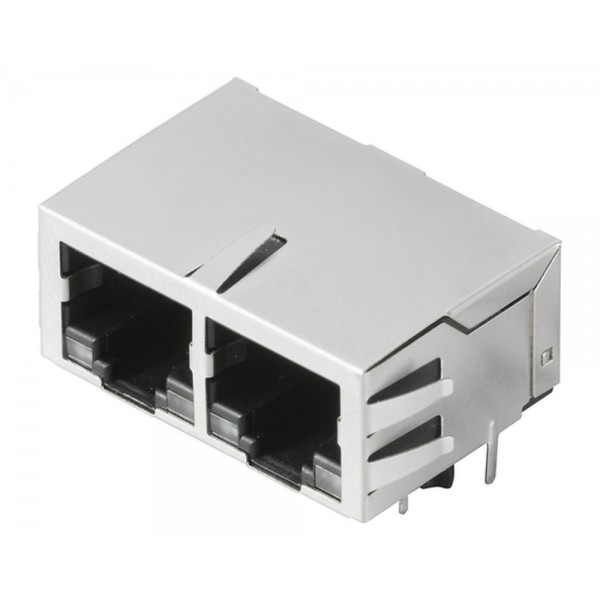 The RJ45G1 R12D 3.3E4YG/YG RL jack with transformer from the Weidmüller Omnimate data range, offers twin magnetic transmitter sockets for gigabit applications (1000 base-T) with integrated compensation, which actively counteracts inductive and capacitive couplings as well as saving space on the PCB. This RJ45 twin jack with transformer connector by Weidmüller feature 8 poles with an outgoing elbow of 90° and extended temperature range of −40°C to +85°C.
RJ45 jack
Mounting onto PCB via through-hole (THT) THR solder connection
Transmission rate 1000MBit/s
Outgoing elbow of 90°
Shield surface being nickel-plated
Twin port
4 LEDs with a yellow and green LED in each port
EAC approved and UL listed
8 poles
Contact surface of gold over nickel
Dielectric strength of ≥1000VDC
Operating temperature range −40°C to +85°C
The Weidmüller RJ45 jack series is characterised by its compactness and simplicity. It is used predominantly in:
Horizontal wiring
Wiring workstations
For further information regarding the specifications, please see the datasheet on the Technical Library tab.
Specifications
Additional Features

Through-hole RJ45 jack with transformer
750 plugging cycles
Gold over nickel contact surface
Twin port
Black in colour
Operating temperature range of −40°C to +85°C
EAC approved and UL listed

LED
4 LEDs, with a yellow and green LED in each port
Number of Poles
8
Outgoing Elbow (Angle from PCB)
90°
Shielding
Nickel-plated
Transmission Rate
1000MBits/s
We are pleased to provide you with a range of additional content including videos, product datasheets, case studies, white papers and application notes for your reference. Please see below for the latest content available:
This product is available fully compliant to the RoHS EU directive 2011/65/EU.