Core Sensors CS84 series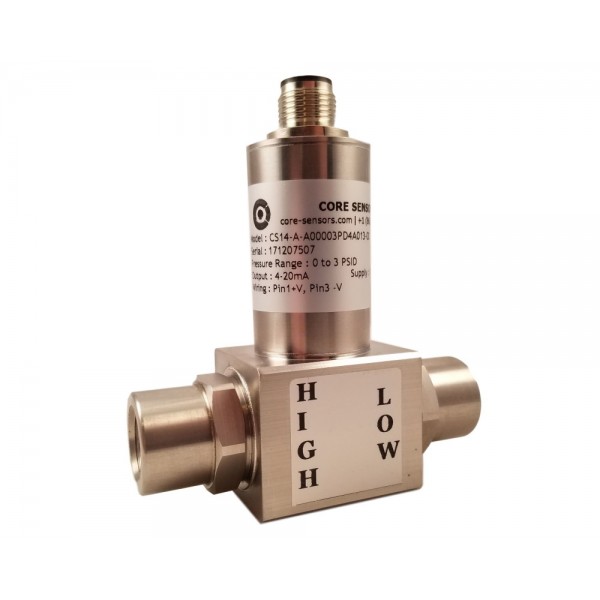 The CS84 intrinsically safe differential pressure transducer series from Core Sensors is designed for various applications in hazardous areas with CSA and ABS approvals. The options include differential pressure ranges of up to 50 PSI, with 1/4" NPT or FNPT process connections and a choice of electrical outputs. The CS84 from Core comes with a 316L SS oil filled sensor element which provides excellent stability over a wide operating temperature range of −40°C to +80°C while offering corrosion resistance against various liquids and gases by offering a robust package with an accuracy of ≤ ±0.4% BFSL. The compact designs makes it a perfect solution for differential measurement applications in confined spaces.
Intrinsically safe differential pressure transducer
Differential pressure range of up to 50 PSI
Maximum line pressure of 500 PSI
Operating temperature −40°C to +80°C
Accuracy of ≤ ±0.4% BFSL
Burst pressure of 3x rated differential pressure
Stability (1 year) of ≤ ±0.25% of FS
Pressure cycles of 4 million
Electrical output options of 4-20mA, 1-5V, 1-6V, 0.5-4.5V ratiometric or 0.5-2.5V non-ratiometric
316L SS diaphragm / oil filled sensor element
1/4" NPT or FNPT process connections

Approvals for the Core CS84 series include:
CSA Class I, division 1, groups C, D T4
Class I, zone 0 AEx ia IIB T4 Ga; Ex ia IIB T4 Ga
ABS (American bureau of shipping)
Potential applications for the Core CS84 series include:
Filtration
Cryogenic bulk tank level measurement
External fuel tank level measurement
Compression systems
Test stands
Please see the below performance and thermal tables for the Core CS84 series: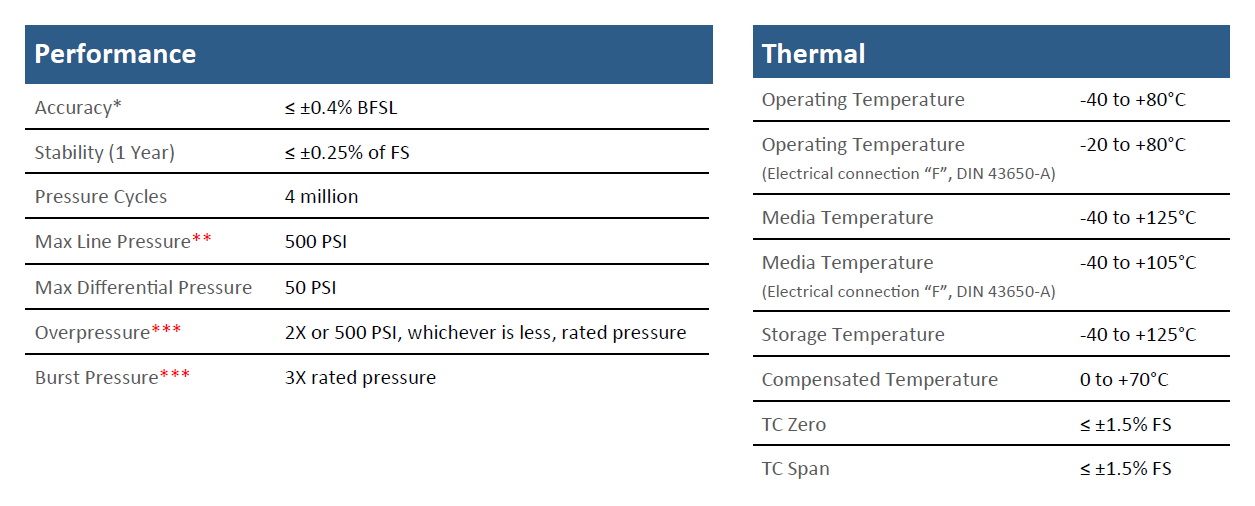 * Accuracy includes non-linearity, hysteresis and non-repeatability
**Max line pressure is the highest equal common mode pressure that can be applied to the sensor without damage.
***Overpressure and burst pressure are the maximum differential pressure that can be applied to the high or low side before damage to the sensor will occur. Please contact us for more information.
Specifications
Accuracy
≤ ±0.4%BFSL
Additional Features

Wet/wet differential pressure transducer
Corrosion resistance against various liquids and gases
Both male and female 1/4" NPT process connections available
Compact design

Operating Temperature
−40°C to +80°C
Output

4-20mA
1 - 5V
1 - 6V
0.5 - 4.5V ratiometric
0.5 - 2.5V non-ratiometric

Pressure Range
Differential up to 50 PSI
Process Media
316L SS
We are pleased to provide you with a range of additional content including videos, product datasheets, case studies, white papers and application notes for your reference. Please see below for the latest content available:
Below is the model number configuration for the C84 series from Core Sensors, please contact us for custom configurations not shown.