Cynergy3 MS WRAS Series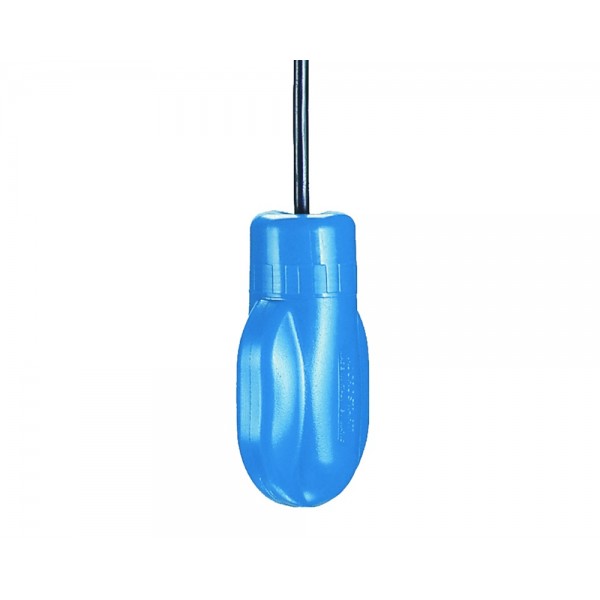 The MS series of cable end float switches by Cynergy3 utilises a microswitch element activated by a moving stainless steel ball with lifetime of 200,000 operations. The switch is hermetically sealed within a HDPE casing filled with non-hygroscopic closed-cell polyurethane, enabling it to work as much as 100m deep in water. The MS series features a selection of contact forms (n/o, n/c and c/o), direct switching power and protective earth conductor included as standard (except for c/o versions). The switching element is UL, VDE and CENELEC approved. The switches are supplied with 5m length of WRAS approved cable with and can be operated in temperatures between 0°C and +45°C (WRAS approved to +23°C).
WRAS Approved Cable end float switch
Microswitch switching element is UL, VDE and CENELEC approved
Maximum switching voltage of 250Vac and 24Vdc
Selection of normally-open, normally-closed and changeover contact forms
Operating temperature range of 0°C to 45°C (WRAS approved to 23°C)
WRAS approved cable
Direct power switching
Cable mounting
100m depth capability
Typical applications for the Cynergy3 MS series of float switches include:
Large tanks, cisterns and reservoirs
Direct installation on submersible pumps
The below table gives the full specifications for each resistor model available including the Cynergy3 MS series: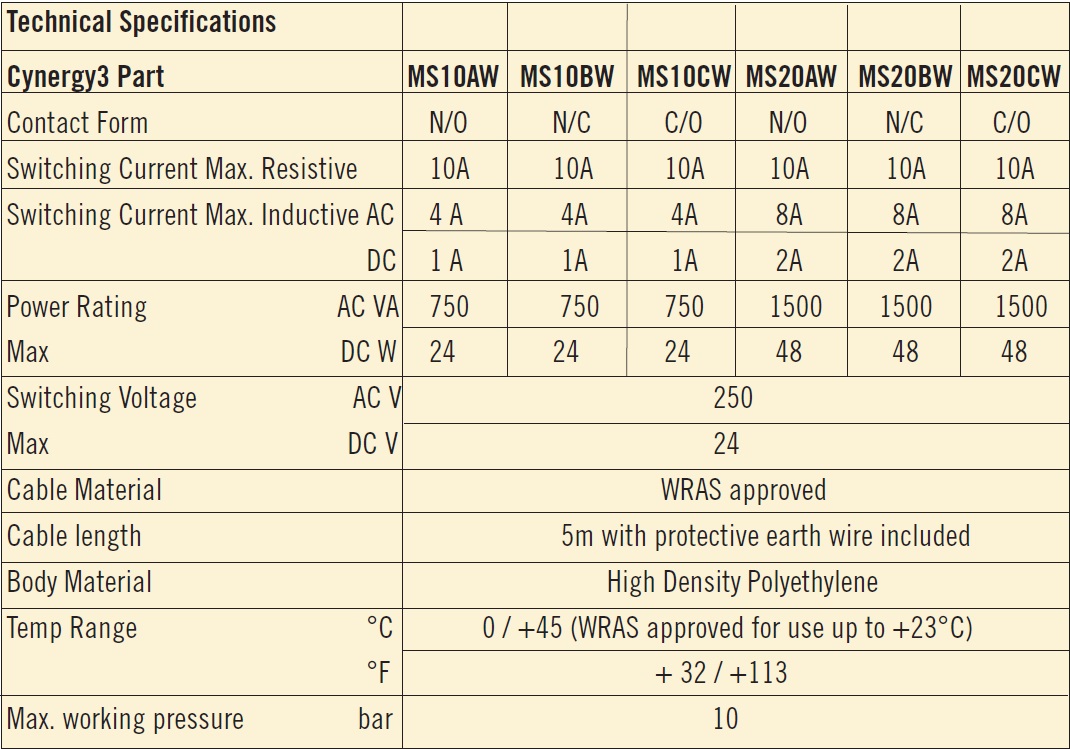 Specifications
Additional Features

WRAS Approved Cable end float switches
UL, VDE and CENELEC approved microswitch
High density polyethylene (HDPE) casing filled with polyurethane
5m cable supplied - PVC (standard) or PUR (for use in fuel oils)
Direct power switching
Suitable for depths up to 100m

Colour
Blue
Configuration
Cable end
Contact Form

Normally-Open (N/O)
Normally-Closed (N/C)
Changeover (C/O)

Operating Temperature
-0°C to +45°C (WRAS approved to 23°C)
Pressure Range
10 bar (maximum)
Below is a part number break down for the Cynergy3 MS Float Switch Series:

We are pleased to provide you with a range of additional content including product datasheets, case studies, white papers and application notes for your reference. Please see below for the latest content available:
This product is available fully compliant to the RoHS EU directive 2011/65/EU.