Description
The TLC conformally coated resistor series from Alpha Electronics further expands their resistor range offerings by utilising thin film resistor technology to allow for larger resistance values of up to 10MΩ. The TLC series offers a precise resistor with a resistance range from 200kΩ up to 10MΩ all in a small through-hole package with low temperature coefficients down to ±5 ppm/°C (between -25°C and +125°C) as well as tolerances down to ±0.02%.
Conformally coated thin film through-hole resistor
Available in any resistance between 200kΩ and 10MΩ
Tight tolerance options as low as ±0.02% available over the whole resistance range
Tight TCR options available as low as ±5 ppm/°C (from -25°C up to +125°C)
Maximum working voltage of 300V
Power rating of 0.25W (at +70°C)
Maximum rated operating temperature +70°C
Temperature range from -25°C up to +155°C
The Alpha Electronics TLC thin film precision resistor series has been designed with terminals that are easy for insertion into the PCB.
The TLC series offers a pin pitch of 5.08 ±0.25mm.
The below table gives the full specifications for each resistor model available including the Alpha TLC series: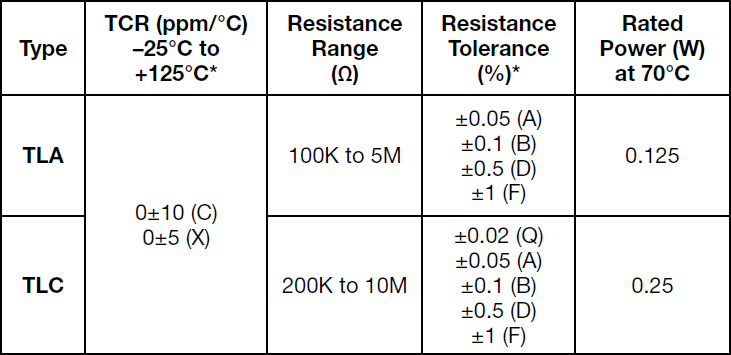 * Symbols parenthesized are for part number composition