The MU ultra-precision resistor 1-2-3 network series from Alpha Electronics offers a 3 terminal, 2 element resistor network in a small surface-mount package. Each resistive element can range from 10Ω up to 20kΩ all with tight tolerances down to +0.02% absolute and +0.01% matching (1kΩ to 20kΩ). By utilising Alpha's Bulk Metal® foil resistor technology, they are able to produce this resistor network series with low temperature coefficients (both absolute and tracking) as well as excellent long-term stability. The Alpha MU series J-lead terminals provide flexibility once the parts are soldered to the board compared to standard fixed surface-mount resistors.
2 element resistor network
Each resistor element is available in any resistance between 10Ω and 20kΩ
Surface-mount moulded package with J-lead terminations
Tight absolute tolerance of ±0.02% for resistances between 1kΩ and 20kΩ with an even tighter matching tolerance of ±0.01% over the same resistance range available
Tight absolute TCR of ±5 ppm/°C (from -55°C up to +125°C, between 100Ω and 20kΩ)
Tight tracking TCR available of between ±1 ppm/°C and ±5 ppm/°C depending on resistance ratio between the two elements
Power rating of 0.05W per resistor element (at +125°C)
Maximum rated operating temperature +125°C
Temperature range from -65°C up to +150°C
The MU surface-mount, ultra-precision resistor 1-2-3 network series exhibits excellent high frequency characteristics thanks to Alpha's Bulk Metal® foil resistor technology, making them suitable for the most demanding precision applications.
Alpha's MU resistor network series are ideal for use in input and feedback resistors for amplifiers due to both the input and feedback resistors being incorporated into the same package, therefore amplification is not affected by temperature change.
The below table gives a summary of the specifications and options available for the Alpha MU series: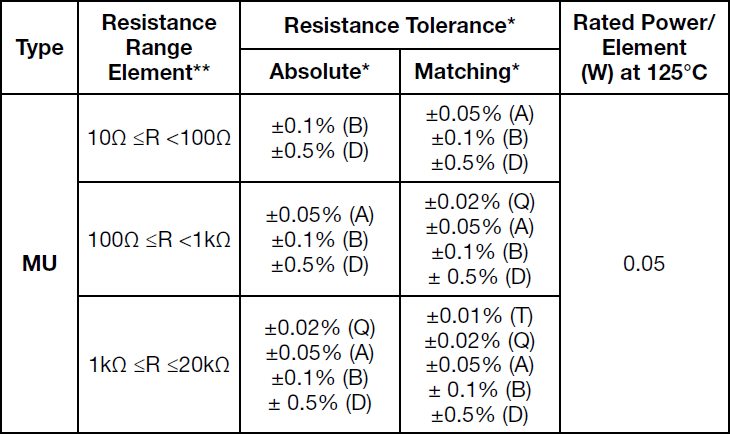 * Symbols parenthesized are for part number composition
** Please contact us for resistance availability