NVE's ADV001-10E is a GMR Digital Switch using a unique bipolar output GMR material. This material allows the sensor to maintain an operate point of −4Oe with the application of a negative (South) magnetic field, and a release point 0f +4Oe with the application of a positive (North) magnetic field. The sensor can provide two travel limits with a single sensor or be used with alternating North/South pole magnetic encoders, or in any other application where one polarity of field is required to turn the part on, and the opposite polarity is required to turn it off.
Precision digital magnetic sensor
Latching bipolar operation (South field ON, North field OFF)
Extremely low operate points for high sensitivity and wide airgaps
Operating supply voltage +4.5V to +30V
Frequency response 100KHz
Quiescent supply current 4.5mA (max) at Vcc=12V
Digital switch output
Temperature range −40°C to +125°C
Miniature TDFN6 package
The ADV001-00E sensor is extremely sensitive, and highly stable, over a temperature range of −40°C to +125°C. This gives the ADV001 sensor better airgap performance and switching precision than other products.
The magnetic field should be applied across the axis of the IC, and the output is on/off open-collector current-sinking, requiring external pull-up resistors to be incorporated into the design.
Typical applications for the ADV series include:
Ring magnet encoder ‐ ideal for detecting the alternating North/South poles of a ring magnet
Linear actuator ‐ two travel limits can be provided with a single sensor by positioning North pole and one limit and a South pole at the other.
The below table gives the full specifications of the NVE ADV magnetic sensor series including the ADV001-10E: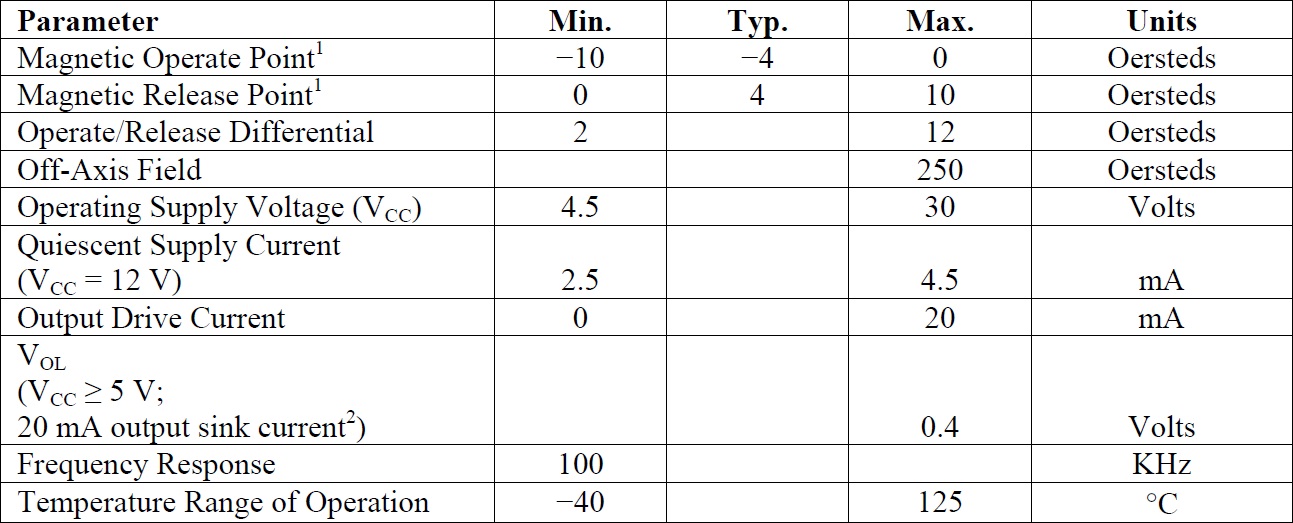 1. Vol at Vcc = 4.5V may exceed 0.4V

2. 1Oe (Oersted) = 1 Gauss in air &equals 0.1mT