UKAS Calibration Laboratory:
Pressure, Dimensional, Electrical, Temperature and Mass
Rhopoint Metrology Ltd., a member of the Rhopoint Group, is a UKAS accredited calibration service and calibration equipment provider within the UK.
We have two high-end Laboratories located in Birmingham and Paulton (near Bristol); both facilities are equipped with an impressive range of state-of-the-art equipment, enabling us to provide one of the most extensive ranges of calibration services to our customers.
Employing a team of over 25 calibration engineers with a wealth of experience covering all disciplines we are one of the most technically advanced with a scope of accreditation to match.
In addition to our Laboratory facilities, we also offer on-site services and a mobile facility, enabling us to provide a calibration service at the client's premises. This facility gives the advantage of minimum downtime whilst still providing the same high standard of calibration in accordance with our customer's specific requirements.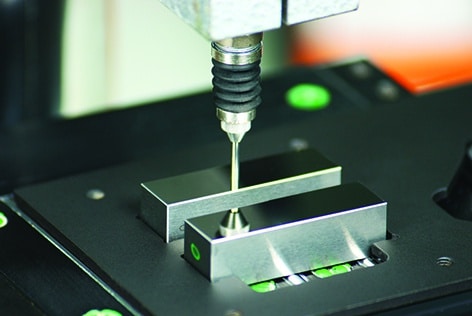 Rhopoint Metrology Ltd. has been providing customers across a variety of industry sectors with UKAS calibration services since 1986 (current accreditation schedule: 0720).
Our strategy is to offer an all-encompassing solution covering all aspects of calibration, repairs, supply of equipment, training and database management.
To find out more about how Rhopoint Metrology Ltd. can assist with your calibration needs, click the button below or speak to engineer today.
Contact Rhopoint Metrology
Rhopoint Metrology Ltd.
Eurolab House
Unit 10 Valepits Road
Garretts Green Industrial Estate
Birmingham
B33 0TD, UK
Opening hours:
Mon – Thu: 8.00am – 5.00pm
Fri: 8.00am – 12.30pm
Rhopoint Metrology Ltd.
Brunel House
28 Old Mills Industrial Estate
Paulton
BS39 7SU, UK
Opening hours:
Mon – Thu: 8.00am – 5.00pm
Fri: 8.00am – 12.30pm
Rhopoint Metrology Ltd. recognises that the customer's peace of mind is of paramount importance, they therefore offer a complete calibration management service to cover all requirements across multiple industries. These include the Automotive, Aerospace, Medical and Oil & Gas industries as well as many more. The below are some of the areas in which Rhopoint Metrology offer their expert calibration services.
Aerospace | Automotive | Construction | Consumer Electronics | Education | F1 Teams | Fabrication | General Engineering | Marine | Medical | Military | Oil & Gas | Packaging | Pharmaceutical | Telecommunications | Test Laboratories | Toolmakers
To ensure absolute confidence in the level of service you receive. We hold the following accreditations:
UKAS ISO 17025 – Calibration Procedures
ISO 9001:2015 – Quality and Procedures
ISO 14001 – Environmental