NVE IL3522VE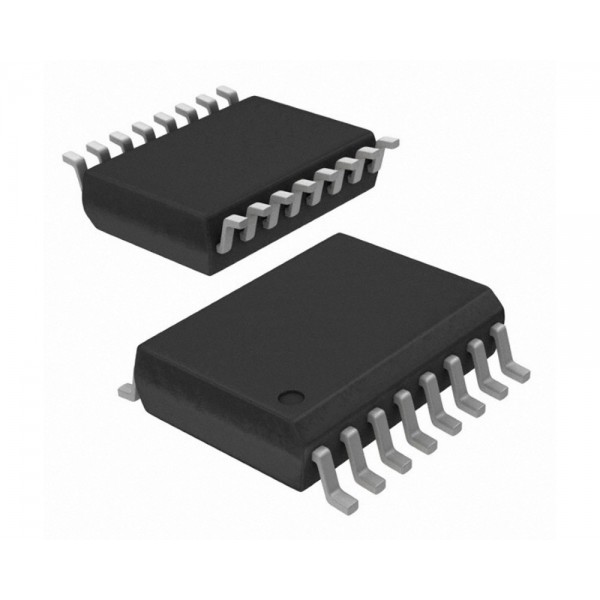 The IL3522VE high speed differential input RS-422 isolated transceiver with reinforced isolation from NVE is designed to galvanically isolate bidirectional data communication over balanced transmission lines. The IL3522 series delivers at least 2.3V into a 54Ω load for excellent data integrity over long cables, and is also compatible with 3V input supplies, allowing interfacing to standard microcontrollers without additional level shifting. A unique ceramic/polymer composite barrier provides excellent isolation and virtually unlimited barrier life. This particular device uses NVE's patented IsoLoop spintronic Giant Magnetoresistance (GMR) technology and comes in a 0.3" 16-pin SOIC package.
Surface-mount high speed, galvanically isolated RS-422 transceiver
Power supply VDD1 between 3V and 5.5V, VDD2 between 4.5V and 5.5V
Data rate as high as 40Mbps
15kV bus ESD protection
Isolation voltage of 6kVRMS
Working voltage of 1kVRMS
Operating temperature range of −40°C to +85°C
Typical common mode transiend immunity of 50kV/μs (30kV/μs typical)
Propagation delay of 20ns
Thermal shutdown protection
UL 1577 recognised; VDE V 0884-10 certified
0.3" 16-pin SOIC package
The IL3522 has current limiting and thermal shutdown features to protect against output short circuits and bus contentions that may cause excessive power dissipation, and also incorporate a "fail-safe if open" design, ensuring a logic high on R if the bus lines are disconnected or "floating."
Typical applications for the IL3522 series include:
Factory automation
Industrial control networks
Building environmental controls
Equipment covered under IEC 61010-1 Edition 3
5kVRMS rated IEC 60601-1 medical applications
The below table gives the recommended operating conditions for the NVE IL3522 High speed RS-422 isolated transceiver series including the IL3522VE:

Specifications
Additional Features

High speed RS-422 isolated transceiver
Bus ESD protection 15kV
Typical common mode transient immunity of 50 kV/µs
Reinforced isolation of 6kVRMS (12.8kV surge)
44000 year barrier life
Thermal shutdown protection
UL 1577 recognized; VDE V 0884-10 certified
0.3" 16-pin SOIC package

Creepage Distance
8.03mm (NVE's True 8TM guarantee)
Maximum Data Rate
40Mbps
Operating Temperature
-40°C to +85°C
Propagation Delay
30ns typical at 5V
Supply Voltage
VDD1 VDD2
We are pleased to provide you with a range of additional content including videos, product datasheets, case studies, white papers and application notes for your reference. Please see below for the latest content available:
This product is available fully compliant to the RoHS EU directive 2011/65/EU.