Description
The IRH60 metal clad wire wound resistor series from RARA offers a power rating of up to 60W on a heat sink (50W in free air) with available resistance values between 0.1Ω and 400Ω (inductive design) or between 0.1Ω and 180Ω (non-inductive design). These high power resistors are available with tolerances of ±0.5%, ±1.0%, ±2.0%, ±5.0% and ±10.0% as standard with other options available including flying leads or tab terminals, as well as inductive or non-inductive resistive windings. The IRH60 series from RARA has an extruded aluminium horzontal housing providing strong and rugged protection all with a temperature range from -55°C up to +200°C
Metal clad wire wound resistor
Inductive resistance range available between 0.1Ω and 400Ω (flying leads or tab terminals)
Non-inductive resistance range available between 0.1Ω and 180Ω (flying leads or tab terminals)
Option of flying leads (tab terminals are standard)
TCR of +260 ppm/°C maximum
Tolerance values available of ±0.5%, ±1.0%, ±2.0%, ±5.0% and ±10.0%
Power rating of 60W on a heat sink (50W in free air)
Insulation resistance of 20MΩ minimum
Temperature range between -55°C and +200°C
Short time overload of 5 x power rating for 5 seconds
Typical applications for the IRH series include:
Motor drives
Braking and snubbing applications
Charging for electric vehicles
Power sources for industrial equipment
The below table gives the specifications available for the IRH series including the IRH60 resistors: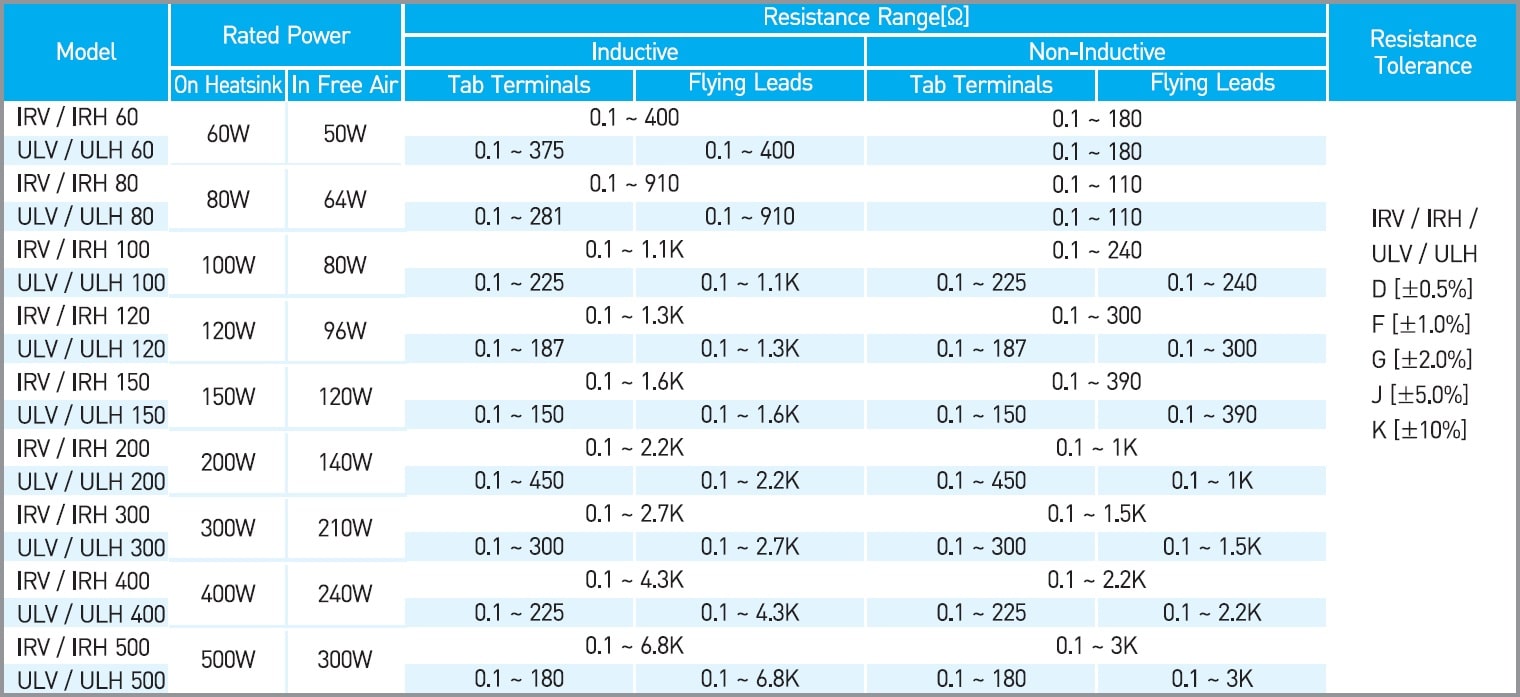 Dielectric withstanding voltage options available are AC1500V, 3500V, 4500V and 5400V for 1 minute. Resistors are also available in extended ohmic range from 0.001Ω up to 750kΩ. Please contact us for further details.