Description
The MG precision high voltage axial resistor series from Caddock offers a voltage rating of up to 30kV (standard series) or 48kV (-15 variant), power rating of up 15W and a resistance range from 200Ω up to 2GΩ (standard series) or 10GΩ (extended range), all in a cylindrical axial leaded through-hole package. Caddock's Micronox® resistance films are the source of their outstanding combination of performance features. The MG series offers tolerances from ±1.0% down to ±0.1% across the standard series or ±1.0% for both -15 and extended ranges.
Cylindrical high voltage axial leaded resistor
Available in any resistance between 200Ω and 10GΩ (Extended range, 2GΩ standard series)
Utilises Caddock's Micronox® resistance film technology
Excellent long-term stability
TCR for standard resistance range of ±80 ppm/°C in combinations with resistance tolerances as tight as ±0.1%
Majority of models are manufactured with Caddock's non-inductive design, other models offer low inductance
Maximum operating voltage from 600V up to 30kV
-15 variant increases the maximum operating voltages by 60% (48kV for the MG815-15 model)
Maximum power rating from 0.5W (MG650 model) up to 15W (MG815 model)
MG resistors have demonstrated stability of 0.01% per 1,000 hours in extended load life testing of standard resistance range values
The exceptional performance of the Caddock MG series has been proven through many years of use in equipment that demands the highest reliability and stability, including TWT amplifiers, X-ray systems, geophysical instruments and medical electronics.
Most models of the MG series are manufactured with Caddock's non-inductive design which uses a serpentine resistive pattern that provides for neighbouring lines to carry current in opposite directions, thereby achieving maximum cancellation of flux fields over the entire length of the resistor. The efficient non-inductive construction is accomplished without derating of any performance advantages.
Additional options to the standard resistor range includes extended resistance values and the -15 option for increased maximum operating voltages.
The below table gives the specifications available for the complete MG resistor series: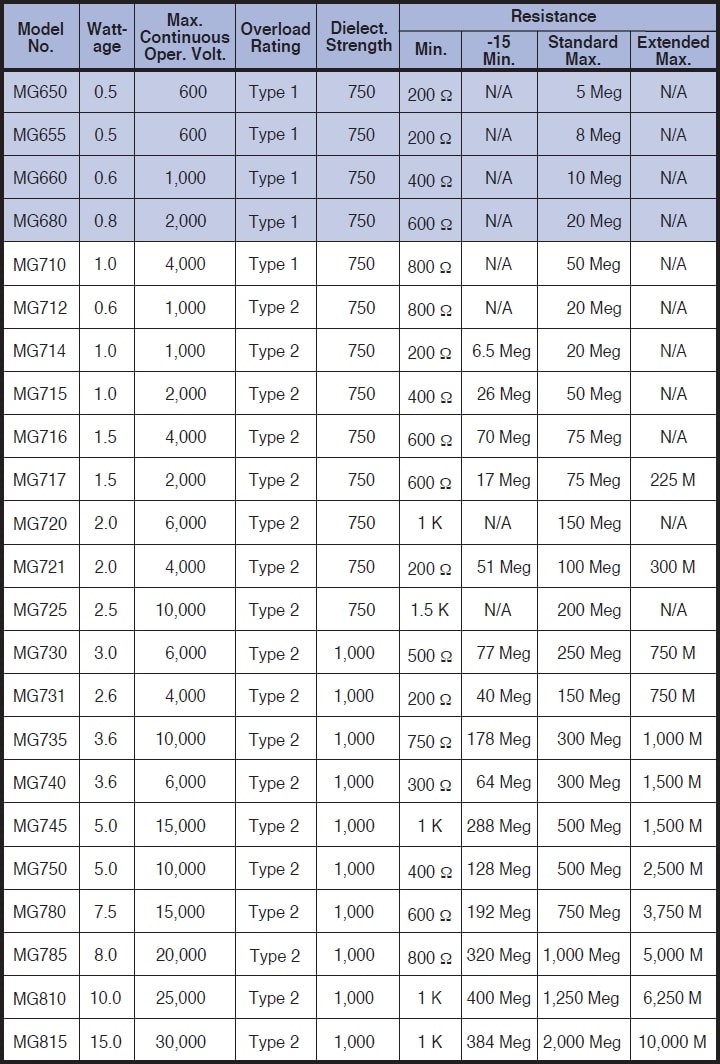 Models with low inductance construction are in shaded areas

Models with Caddock's non-inductance resistance pattern are in non-shaded areas