Custom Enclosures & Cabinets

With such a vast array of projects and applications, it's often the case that an off the shelf enclosure or cabinet is not exactly what is required. We have partnered with Fibox to bring our customers the ideal solution to finish any project. We can offer a number of options to customise off the shelf product to suit your needs such as machining, custom colour, tool modification, EMC protection, silk screen printing and more. Alternatively, we are able to work together to create a unique housing solution designed around your exact needs. We are the one-stop shop having everything from concept design and engineering to injection molding and secondary processes to logistics and warehousing under the same roof.
Fibox have been providing world class services in plastic molding solutions for many years. With high standards in their services as well as technology for customers in most industries such as energy, industrial, medical, health care and so much more. In addition to such an extensive amount of customisable options, Fibox also offer an assemble service for custom products. Taking the need for any additional work on your project, we can work with Fibox to provide you with an end product straight to your door. 
All Fibox enclosures can be customised to meet the exact requirements of a customer's application by employing modern machinery. For customers requiring modification of a Fibox standard enclosure, we offer design tools for the engineer. CAD drawing files of standard enclosures are developed for use with all major computer-design programs. Factory- technical assistance is also available to aid the engineer in creating the most cost-effective customisation that meets the engineer's needs. Buying a customised enclosure from Fibox ensures ongoing consistency and quality.
Concept & Solution Creation
From idea of the plastic product to real physical prototypes. We can provide services such as:
Part design
Production design
Design optimisation
Simulations
First tool concepts
Proto tooling
DFME
Moldflow simulations
First tool concepts
Planning for Quality
Industrialisation & Production
Getting the prototype products accepted and finalized is great. But after that the real push for mass manufacturing starts and we are there to make sure to get things delivered on timely manner:
Planning for production
Equipment and capacity
FOT and PPAP
Mass production
Secondary processes and assemblies
High quality standards
NPI
Validations
Quality metrics
Continuous improvement
Logistics & Warehousing
Fibox has several manufacturing locations that allows us to be close proximity for customer. We also have services to stock and buffer products:
Creation close to demand
Globally scaling availability
Logistics
Warehousing
Buffering
Material availability planning
Deliveries
Ramp down planning
EOL buffering
Tool maintenance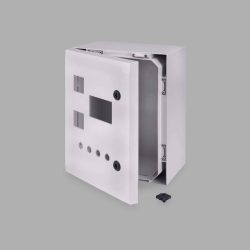 Fibox employs state-of-the-art machines to manufacture your custom-made enclosures with drills, knockouts or openings, even for small piece numbers.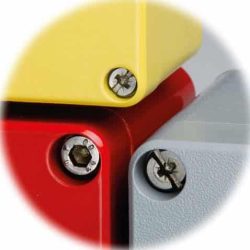 Paint your enclosures in your corporate colour. Fibox offers customers a choice of custom or RAL colour for plastic enclosures, even for relatively small quantities.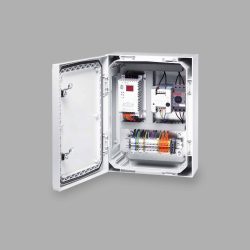 Have you ordered hinges, inspection windows or other Fibox accessories?
Do you know our assembly service can deliver your enclosure and accessories pre-assembled and ready for use. This cuts down your labour costs and time to delivery.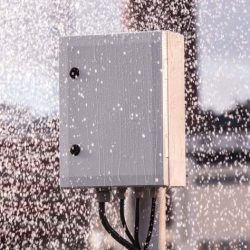 Fibox provides a lacquer coating for your enclosures on request. This process is especially recommended for production quantities of under 500 pieces. We offer a comprehensive range of lacquer options.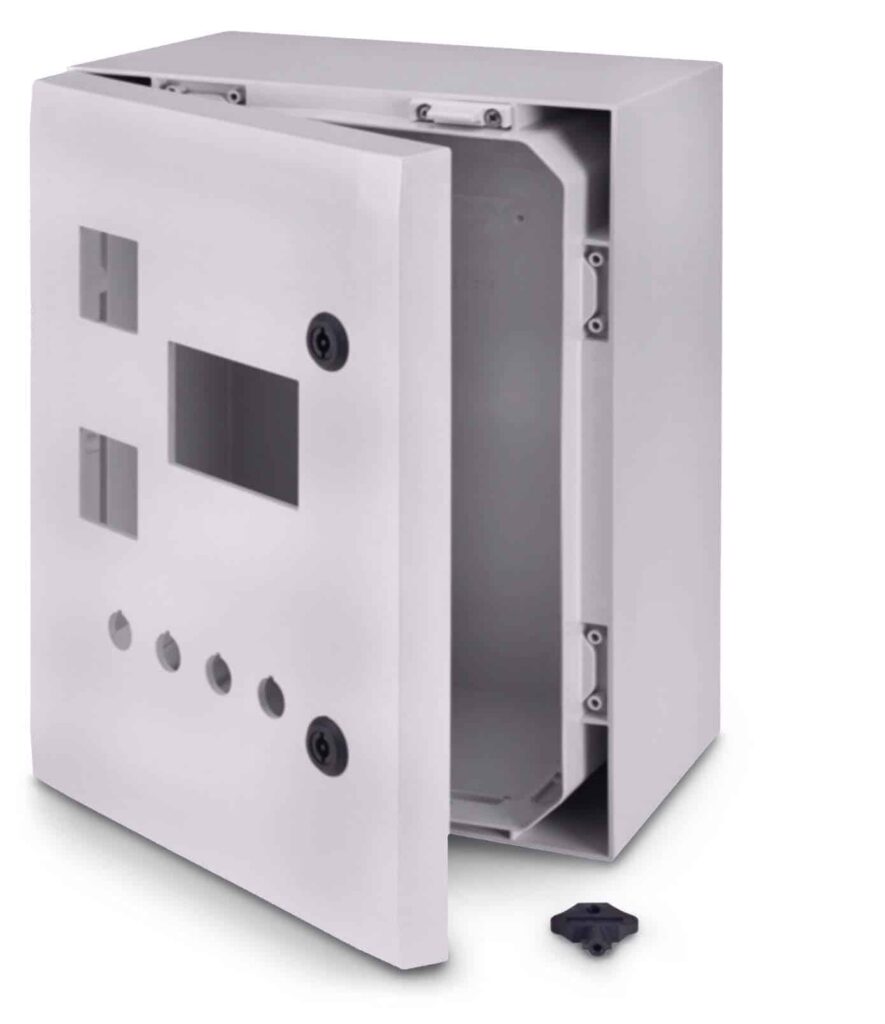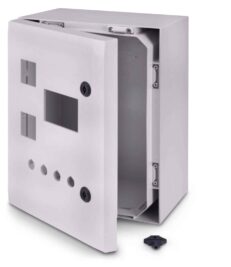 Tool Modifications from OEM Enclosures
Instead of having to manufacture a whole new tool Fibox can modify
our own standard tools according to your OEM enclosure specification.
This results in a shorter product development time and enables you to
take your product to market earlier.
Modifications of our standard tools give you a possibility to differentiate
your products form your competitors.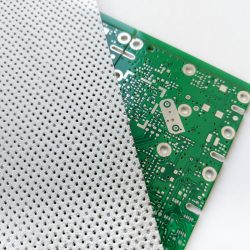 Fibox can provide your plastic enclosure with EMC protection if desired.
For example we can apply a conductive copper coating to the inside faces, or utilising a special conductive gasket….or both.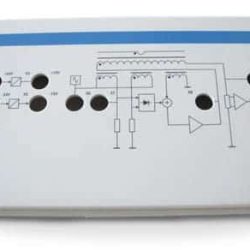 Fibox can supply your enclosures with silk screen printing to your
specification. Smooth, even surfaces are required.
Custom Enclosure Examples
Distribution board on a factory floor
Arca enclosure with cutouts and EMC protection
Enclosure with cutout for screen with a window for protection
Enclosure with custom branded colouring and cutouts
Custom enclosure with flanges using a transparent smoke lid
Custom MNX enclosure with cutouts and screen printing
Custom Arca enclosure with flang fitting and EMC internal mounting system