DGH D7300 Ethernet MODBUS TCP/IP Analog Thermocouple Input Module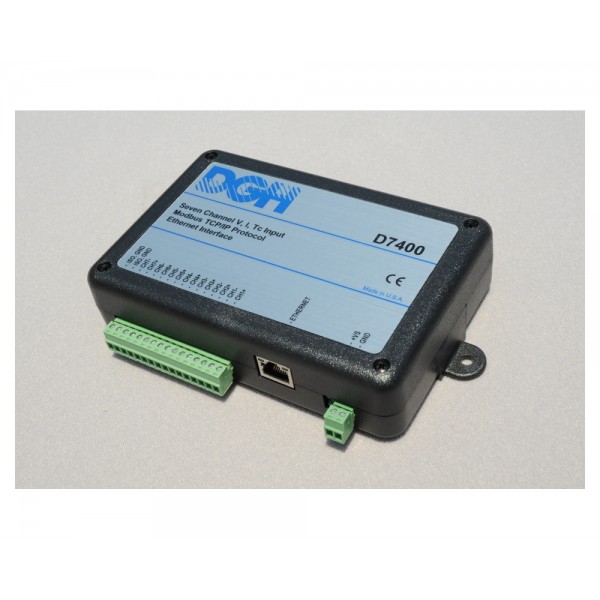 The D7300 7-channel thermocouple input module is part of the DGH's D7000 data acquisition module family supporting RJ-45 Ethernet interface and communication via MODBUS TCP/IP protocol. This input module contains seven input terminals, each terminal is taking input signal from a choice of eight thermocouple types (J, K, E, T, R, S, B or C) and continuously converts the data at the rate of up to 25 conversions per second, storing the latest result in the buffer. The data (unsigned integer percentage of full-scale values) can then be retrieved by sending a Modbus query to the module from the host processor. The D7300 thermocouple input module can be directly connected to a wide range of sensors and annunciators, and provides all signal conditioning and linearisation, while containing no pots or DIP switches. The D7300 series of modules also features peer-to-peer (P2P) mode, allowing sending signal from analog input to analog output module, or digital input to digital output module without the need to involve a host computer. They are also able to upload information to cloud using ThingSpeak platform, and send e-mail notifications via Gmail free e-mail service (a limit value can be set for each channel separately, triggering the notification e-mail). For extra security, it utilises a non-volatile EEPROM (Electrically Erasable Programmable Read Only Memory) to store all user-selectable settings such as the range, meaning the values are maintained in the event of power loss. The D7300 module is compatible with any commercial software supporting Modbus TCP/IP ethernet protocol and is DIN-rail mountable (MK-1 mounting kit required). Combined with other D7000 modules, it provides the complete, customised data acquisition system for given application.
7-channel differential analog thermocouple input module
Thermocouple input types: J, K, E, T, R, S, B or C (see Specification tab for temperature ranges)
Modbus TCP/IP communication protocol
RJ-45 Ethernet inteface - both 10MB and 100MB
User-selectable features include analog input range per channel, baud rate, device address, filtering constants and others
16-bit ADC, 25/20 conversions per second (total across the enabled channels)

Compatible with all commercial software programs supporting Modbus TCP/IP protocol
Accuracy (error from all sources at 0-40°C ambient): ±1.5°C maximum (J, K, T and E thermocouples) or ±3.5°C maximum (R, S, B and C thermocouples)
Lead resistance effect: <40µV per 350Ω
Input impedance: 20MΩ minimum
Automatic cold junction compensation
Open thermocouple and over range indication
Power requirements: Serial = 1.4W
Operating temperature -25°C to +70°C
Mix and match with other D7000 modules to build a complete, customised data acquisition system
The applications for the D7000 data acquisition modules include:
Process monitoring and control
Remote data logging to any host computer
Product testing
Peer-To-Peer Communication
Specifications
Additional Features

16-bit ADC, 25/20 conversions per second
Accuracy (error from all sources at 0-40°C ambient): ±1.5°C maximum (J, K, T, E) or ±3.5°C maximum (R, S, B, C)
Input impedance of <100Ω (70Ω typical)
Peer-to-peer mode, cloud uploading and e-mail notification features
Operating temperature of -25°C to +70°C

Input/Output
Analog thermocouple inputs
Number of channels
7 channels
Power requirements
Serial 1.4W
Ranges

J = -200°C to 760°C
K = -150°C to 1250°C
T = -200°C to 400°C
E = -100°C to 1000°C
R = 0°C to 1750°C
S = 0°C to 1750°C
B = 0°C to 1820°C
C = 0°C to 2315°C
We are pleased to provide you with a range of additional content including videos, product datasheets, case studies, white papers and application notes for your reference. Please see below for the latest content available:
This product is available fully compliant to the RoHS EU directive 2002/95/EC.