Description
The MSR-5 resistor series from Riedon uses a bare metal element in an all-welded construction for through-hole circuit board mounting to provide resistance values from 0.005Ω up to 0.1Ω, while also achieving low inductance (<10nH) and a low TCR (±20ppm/°C). The MSR resistor series is available in various sizes, tolerances down to ±1.0% and power ratings up to 5W, with the MSR-5 range offering a power rating of 5W.
Bare metal element through-hole resistor
All-welded construction
Available in select resistance values between 0.005Ω and 0.1Ω
Low inductance of <10nH
Tolerance options of ±1.0% and ±5.0% available
Resistance wire TCR of ±20 ppm/°C
Power rating of 5W (at +85°C)
Maximum rated operating temperature +85°C
Temperature range up to +275°C
The high power MSR resistor series with their low ohmic resistance values make them ideal for current sensing and shunt applications.
By inserting one of these resistors in series with the load current, a small voltage drop will be seen which can be readily measured and used to calculate the current flowing through the resistor.
The MSR series is capable of handling several Amps, even tens of Amps thanks to their low resistances and high power ratings.
The below table gives the full specifications for each resistor model available in the Riedon MSR bare metal element resistor range including the MSR-5 series: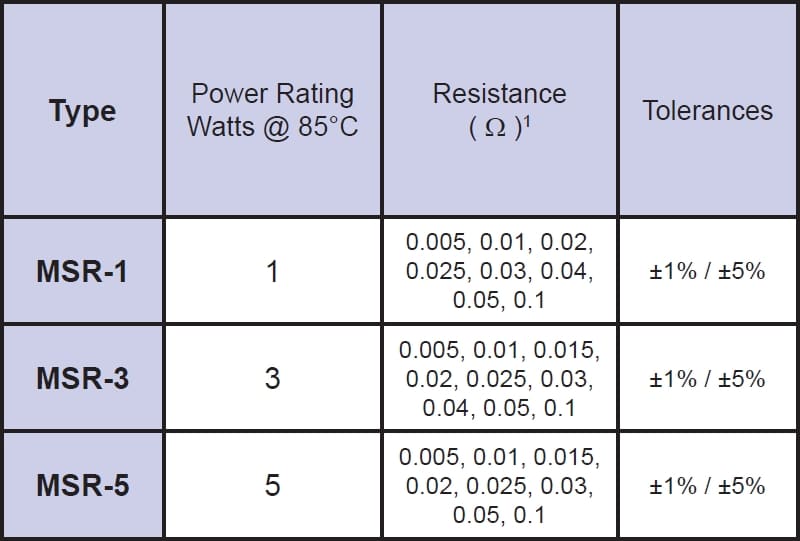 1 Please contact us for other resistance values